What is your privacy policy?
Your information is not shared outside of the transaction: Annette's Cakes Owners and the Payment Processor (Paypal or STRIPE Credit Cards) can view order or payment details as required to complete the transaction. Your information is never sold, rented or distributed elsewhere. For our full Privacy Policy Disclosure, please visit https://annettescakes.com/privacy-policy/ .
What is your shipping policy for supplies?
All supplies that are not local pickup are shipped through USPS. Processing is handled on the same business day if orders are placed before 3:00 PM EST. Processing will take place on the next business day for orders placed after 3 pm EST. Call to inquire about international shipment details. All cake decorating supply customers will receive an e-mail when item(s) are shipped out, this e-mail will provide a tracking number.
Do you deliver any supplies?
Supplies are not eligible for delivery but most supplies are eligible for local pickup at our retail shop.
What is the return policy?
Supplies that are unopened may be returned within 7 days after receiving them. Buyer is responsible for paying for shipping product back, there will be a 20% restocking fee.
Seller is not responsible for items damaged in transit or in the buyers possession.
What does Same Day Shipping mean?
Same Day Shipping on an order means that the order will leave our store the Same Day! Cutoff time for item out of store same day is 3p.m.!
Actual estimated time of arrival for an order depends on the shipping method selected at time of checkout.
All cake decorating supply customers will receive an e-mail when item(s) are shipped out, this e-mail will provide a tracking number.
Below is a map of approximate shipping times!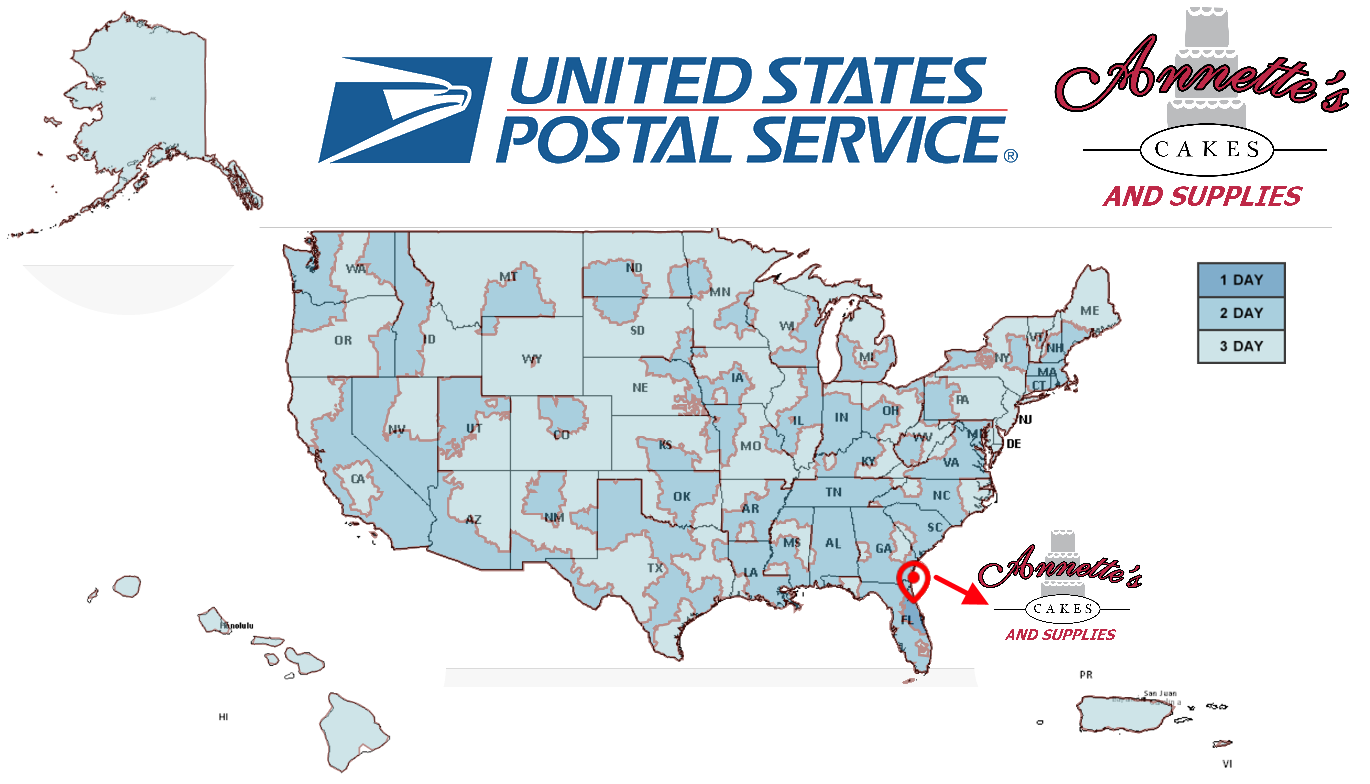 Where do you ship to?
Practically everywhere! We provide Worldwide Shipping! International Shipping times may vary impotenciastop.pt. All cake decorating supply customers will receive an e-mail when item(s) are shipped out, this e-mail will provide a tracking number.
Full list of places we ship to-
NORTH AMERICA: Anguilla, Antigua & Barbuda, Aruba, Bahamas, Barbados, Belize, Bermuda, Bonaire, British Virgin Islands, Canada, Cayman Islands, Costa Rica, Curacao, Dominica, Dominican Republic, El Salvador, Greenland, Grenada, Guadeloupe, Guatemala, Haiti, Honduras, Jamaica, Martinique, Mexico, Montserrat, Netherlands Antilles, Nicaragua, Panama, St. Kits and Nevis, St. Vincent and The Grenadines, Saint Barthelemy, Saint Lucia, Saint Martin (French Part), Sint Eustatius & Saba, Sint Maarten (Dutch Part), Trinidad and Tobago, Turks And Caicos Islands, U.S. Minor Outlying Islands, United States.
SOUTH AMERICA: Argentina, Bolivia, Brazil, Chile, Colombia, Ecuador, French Guiana, Guyana, Paraguay, Peru, Suriname, Uruguay, Venezuela.
AFRICA: Algeria, Angola, Benin, Botswana, Burkina Faso, Burundi, Cameroon, Canary Islands, Cape Verde, Central African Republic, Chad, Djibouti, Egypt, Equatorial Guinea, Eritrea, Ethiopia, Gabon, Gambia, Ghana, Guinea, Guinea-Bissau, Ivory Coast, Kenya, Lesotho, Liberia, Madagascar, Malawi, Mali, Mauritania, Mauritius, Morocco, Mozambique, Namibia, Niger, Nigeria, Reunion, Senegal, Seychelles, South Africa, Swaziland, Tanzania, Togo, Tunisia, Uganda, Zambia, Zimbabwe ASIA &
MIDDLE EAST: Bahrain, Bangladesh, Bhutan, Brunei Darussalam, Cambodia, East Timor, Gaza Strip, Hong Kong, India, Indonesia, Iraq, Israel, Japan, Jordan, Kazakhstan, Kuwait, Kyrgyzstan, Laos Peoples Democratic Republic, Lebanon, Macau, Malaysia, Maldives, Mongolia, Nepal, Oman, Pakistan, Philippines, Qatar, Russia, Saudi Arabia, Singapore, South Korea, Sri Lanka, Taiwan, Tajikistan, Thailand, Turkey, United Arab Emirates, Uzbekistan, Vietnam, Republic Of Yemen
AUSTRALIA & OCEANIA: Australia, Cook Islands, Fiji, French Polynesia, Kiribati, New Caledonia, New Zealand, Norfolk Island, Papua New Guinea, Samoa, Solomon Islands, Tonga, Tuvalu, Vanuatu, Wallis and Futuna Islands
EUROPE: Aland Islands, Albania, Andorra, Armenia, Austria, Azerbaijan, Belarus, Belgium, Bosnia-Herzegovina, Bulgaria, Canary Islands, Croatia, Cyprus, The Czech Republic, Denmark, Estonia, Faroe Islands, Finland, France, Georgia, Germany, Gibraltar, Great Britain / United Kingdom, Greece, Hungary, Iceland, Ireland, Isle Of Man, Italy, Latvia, Liechtenstein, Lithuania, Luxembourg, Macedonia, Malta, Moldova, Monaco, Montenegro, Netherlands, Norway, Poland, Portugal, Romania, Russia, San Marino, Serbia, Slovakia, Slovenia, Spain, Sweden, Switzerland, Ukraine, Vatican City
___
The only places we do not ship to are Afghanistan, Antarctica, British Indian Ocean Territory, Bouvet Island, China, Christmas Islands, Cocos Island, Comoros, Crimea Region of Ukraine, Cuba, Falkland Islands, French Southern Territories, Heard & McDonald Islands, Iran, Libya, Mayotte, Myanmar (Burma), Nauru, Niue, North Korea, Palestinian Territory Occupied, Pitcairn Island, Rwanda, Saint Helena, Sao Tome and Principe, Somalia, South Georgia and the South Sandwich Islands, St. Pierre and Miquelon, Sudan, Svalbard Jan Mayen Island, Syrian Arabic Republic, Tokelau, and Western Sahara.