We will be making 2 elephants, in different positions, in this class
Necessities: These are things you should always have in your class kits
Brush – Small Square
Brush – Small Round Detailer
Cornstarch – Puff/Container With Brush
Crisco – Small Container
Cutting Mat (Not A Silpat)
Gum Glue
Knife – Scalpel or X-acto
Knife – Fondant trimmer (won't harm Silpats)
Pencil And Paper
Rolling Pin with 2mm & 3mm Bands
Ruler
Scissors
Scribe Tool
Small Spray bottle of water
Small container – extract or vodka
Toothpicks – 2.5" – 3" pointed on both ends
Small Spatula
Tweezers
Tylose Powder
Ziplock Bags Or Container To Store Unused Fondant
Container To Take Your Pieces Home In – or see below
Class Specific Required Tools:
Fondant Mixed With Tylose Note: Please Mix These Colors At Home. We Will Not Be Mixing Colors During Class. These Measurements Are Approximations.
Fondant – Gray or Blue Gray ~ 1 Lb
Fondant – Black ~ about the size of a golf ball
Fondant – Red ~ about the size of a golf ball
Fondant – White ~ about the size of a golf ball
Fondant – Yellow ~ about the size of a marble
8" cake board
8" x 8" cake box
Small Bow Mold
Small Plastic modeling tools (cel sticks)
Small Gram Scale if you have one
Note: Supplies Are Available For Purchase From Annette's Cakes And Supplies.
Class begins at 9 am
Teacher must make items in advance so there is absolutely no refund!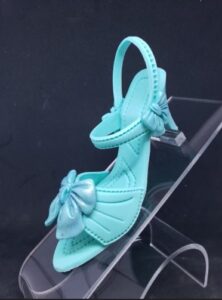 September 24th 9 am Sharp! Make 2 Shoes!!
All inclusive class,  all supplies will be at class to use, learn to make this  and take a shoe home. 
Class is $35 no refunds once signed up unless we cancel the class for unforeseen circumstance.